At six years old, my son Travis surprises me fairly often. Last month, as we planned his birthday party, I got a surprise that made me really proud of him, and reminded me that our kids are sometimes way more ready to grow than we realize.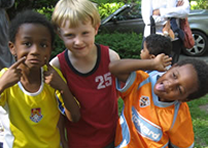 His birthday is close to Earth Day, which happened to fall on a Sunday this year. As we talked through possible themes, dates, and times for the party, and who to invite, we realized that Earth Day was the optimal date, and we found a great location in a park we like. We talked with Travis about Earth Day, and what it means. My wife, Carrie, came up with the idea of doing a park clean up as part of his party, and he loved it. We decided to call it his "B'EarthDay" party.
Later, Carrie asked me what I thought about asking Travis to forego presents, and instead ask people to donate. I thought it was too much to ask – he's only six. We talked more and decided to float the idea to see how he would respond. If he resisted — no big deal, we would do presents like any normal birthday party.
I went into the conversation convinced that he would be upset. We had planned to talk to him about not needing a lot of new toys, and how the money for toys could be used in other ways. We would suggest that people could donate to an organization that helps the Earth locally and another organization of his choosing. We would explain about the problematic nature of plastic packaging for new toys, and tell him we could invite guests to make homemade presents, give him a toy they are finished with, or make a donation. We would tell him that if he wanted to do his party this way, he would (of course) still get presents from his grandparents, and we would take him to the toy store to let him pick out one nice, new toy for himself. Finally, we would be very clear that the choice was up to him, that we would be happy either way.
Before we got through our points, he was excited about the idea. In addition to our idea of the Chesapeake Bay Foundation, he wanted people to donate to his school (perfect!).
Although we couldn't do the park clean up because of a torrential downpour, the party was great. Kids made their own trail mix, which they took home in reusable snack bags. They got to decorate flowerpots, and took home some potting soil and seeds. They competed in a recycling relay, and somehow both teams won. They ran around like crazy. And most importantly, Travis had a blast.
Since then, he has thought a lot about the amount of plastic we use, and how to limit it. It has been fascinating to watch. I have re-learned that kids have incredible capacity to grow. So much so that they sometimes take ideas that we over-think and adopt them with ease. Let's give more children a shot at learning to help the Earth, and learning how to give back to their communities.
To learn more, join the upcoming Shot@Life #DadChat on Twitter, May 31, 9-10 pm ET, with Bruce Sallan (@aDadsPov), and co-hosted by Ted Rubin (@TedRubin). Bruce will be auctioning off prizes, including two Shot@Life iPods and a trip for two to Vegas. As an added bonus, anyone who donates to Shot@Life that day will receive special Shot@Life gear.
About the Shot@Life #DadChat
Bruce is a leading voice for dads and about fatherhood. He hosts #DadChat every Thursday evening, and thousands of people participate, learning from each other about being better dads. This special May 31 edition of #DadChat – on Paying It Forward: Teaching Your Kids How to Give Back – will also raise awareness about and funds for Shot@Life, the UN Foundation campaign that is empowering Americans to support life-saving vaccines for children in developing countries. See you then!
Shot@Life #DadChat Details:
Topic: Paying It Forward: Teaching Your Kids How to Give Back
Date and time: May 31, 2012, 9-10pm ET
Hashtag: #DadChat
Hosts: Bruce Sallan (@aDadsPov), with co-host Ted Rubini (@TedRubin)
Prizes: Two Shot@Life iPods and a trip for 2 to Vegas
Bonus: Anyone who donates to Shot@Life on May 31 will receive Shot@Life swag