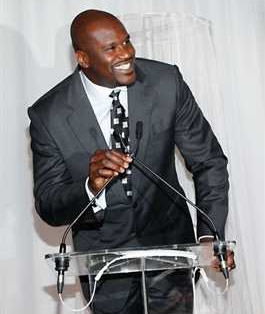 NBA legend Shaquille O'Neal has joined forces with the United Nations Secretary General Ban-Ki Moon to call us to attention this World Malaria Day.
Why? Because Malaria still kills a child every minute. Every minute of every day.
In areas like South Sudan, where refugees are fleeing violence, the people are weakened from malnutrition and other illnesses. It makes it that much harder to survive when malaria hits, especially for kids under 5 who are the most vulnerable to the disease.
Nothing But Nets are working to send 100,000 bed nets to the region.
The good news it costs $10 to get a bed net in the hands of a family who needs it.
At a Nothing But Nets NETworking reception at UN Headquarters on Monday night, Shaq told us that as a basketball player, one of the keys to his success was knowing his opponent. "We know how to fight malaria!" He threw out the challenge to end this disease once and for all. Bed nets are a critical and cost effective part of that solution.
Plus, if Shaq says we're fighting, I'm not gonna argue! Share this and donate today.
Will you send a net today? Go right here!